Good news is I won the auction. I was running late but my brother came through and helped me win the auction. SO....soon I will be in posession of a bonafide JDM Air Refiner.
Bad news, like I have stated before, is that it isn't the Air Refiner trim that I'm seeking....
I don't know if you can make that out in the picture, but its the one I need (with the woodgrain)
Whatevers whatever though. I got it for a good price and if I happen to come across a woodgrain trimmed unit, I always have the option of re-selling it.
Good News: I was searching through some japanese websites (as I often do) and came across one that lists the steering wheel that I got used awhile ago (refer to prior post) and after googling the Yen to Dollar conversion; found out it costs like $780.00! I got it for like a hundred AND it came with a the hub and wiring/switch that allows for the maintaining of Cruise Control!
Now bear in mind that my steering wheel is used, and the center garnish is faded....
as compared to brand new....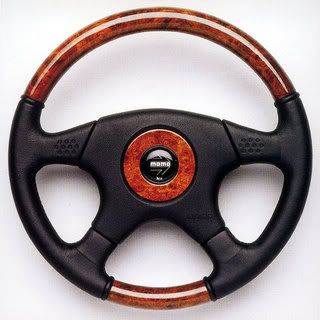 .....but whatever....I don't even mind. I'm actually thinking of a couple of ways as to retaining a new woodgrain center garnish anyways.
Bad news.
You know how when I got that Mugen Wing I had said that I'd only seen one other listed before and I had to jump on the one that I eventually bought? Well, someone else not only listed another one, but this one was in WAY better condition....
and its wiring is completely intact whereas mine is not.
compared to.....
AND however listed it, did so for like $300 bucks + shipping!
So that pretty much it....hopefully my next post won't have any "bad" news in the subject heading....