Well well well....been a minute since I posted last, been busy. So busy that I still haven't had time to scan my newly translated brouchures, but whatever. Time is money, and I have little of either these days....but enough about me....on to Project Legend! My man "jdmisme" posted a super rare exhaust tip for Project Legend that I bid on but did not win.......$113 bucks for an exhaust tip? Damn. Yeah, if I could have afforded it, I would've....but sadly as I mentioned before....lack of money. On the bright side, I know that they exist now and intend to add it to my ever growing laundry list of parts needed for Project Legend to be COMPLETE.
Heres some pics......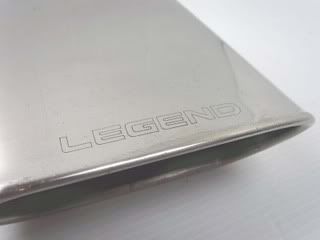 Dope, right? I know. And heres what he had to say about it......
"JDM Honda Legend Option Chrome
Dual Exhaust Tip!
This auction is for the option chrome dual exhaust tipe from a 91-95 Series JDM (Japanese Domestic Market) Honda Legend. This particular tip was taken from a KA8.
I have been told that some USDM Legends came with this option but were few in numbers. This is a nice OEM item for those of you who prefer the OEM look or are looking for a few extra points at a show..."
Which is exactly what I'd like to have an advantage in.....points in the shows.
Oh well.
Life continues.