Anybody got like $1,500.00 that I could borrow?
Wow…so there I was, scrolling through eBay and I came across these wheels being listed…..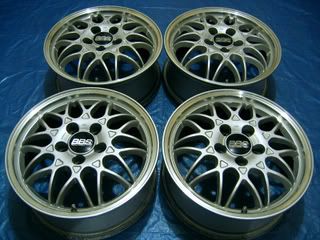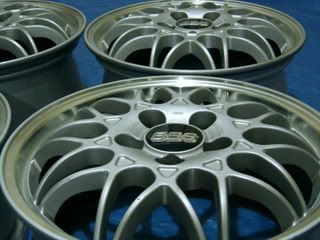 "Auction is for a beautiful set of four (4) authentic JDM Honda BBS RG-II alloy wheels. These lightweight forged BBS alloys were exclusively made for Honda for their Japanese KA7/9 Legend. Take a look at the wheel face and you know these are not general BBS RG's. These wheels bearing Honda logo are hub-centric for use on the Legend and they use Honda OEM bulge-type lug nuts."
Crazy, right? I never knew BBS made wheels specifically for Honda, much less the KA7/8/9 chassis!
Here's a little more about BBS taken quite literally…..directly from their website.
http://www.bbs-usa.com/
*ahem*
"BBS is synonymous with top-quality wheels. But what makes BBS the best is not just elegant, stylish designs. It's what you don't see that makes our wheels the most sought-after and respected in the world.
The wheel has been around for thousands of years, but that doesn't keep us from reinventing it all over again.
BBS got its start in the 1970s when it began producing wheels for touring car racing. It quickly became a widely recognized name in the world of motorsports because of its ability to produce race-winning wheels that compromised neither integrity nor weight. Over the years, we've developed and perfected various technologies used in the production of BBS wheels that have effectively set us apart from our competitors, on and off the racetrack.
Unlike standard wheel manufacturing processes—which have a limit to the level of performance they can deliver at a specific weight—BBS Flow Forming and Forging processes make it possible to manufacture solidly-engineered wheels that are also lightweight. Plus, the BBS commitment to quality, performance, and safety goes far beyond other recognized standards such as the German TUV, or the Japanese JWL / VIA requirements. In some cases the BBS standard is 10 times greater. Building wheels that are lighter and stronger requires a higher level of engineering, better manufacturing technologies, and a well-trained production staff.
Flow Forming
Flow Forming is a production procedure that turns the wheel (or rim section) over a special mandrel and three hydraulic rollers using tremendous pressure. The pressure and turning then force the rim area to form against the mandrel, creating the shape and width of the rim. During Flow Forming, the rim actually "flows" down to create the full rim width.
Less weight is key to record-breaking speed.
________________________________________________
Forging
In the past few years, "forged" has become quite a popular term in the aftermarket wheel industry—but not all forged wheels are created equally, just as not all cast wheels are created equally.
When the goal is ultimate performance, only a BBS forged wheel will do.
The BBS forging process requires up to 16 million pounds of pressure, and a multi-stage forging process. Starting from a billet of 6,000 Series Aluminum, or a special Magnesium alloy, every stage of production is optimized to create the best forged wheel in the industry—so it's no wonder why BBS supplies wheels for today's supercars more than any other company.
The forging process used to make our aftermarket wheels is the same process we use to make our Formula 1 wheels and Original Equipment forged wheels used on the Porsche Carrera, Ferrari 360 Stradale, Ford GT, and a variety of other high-performance and luxury vehicles.
BBS forged wheels have style and substance.
Light weight wheels deliver better performance, but lighter wheels—without compromised reliability—are not as easily achieved as many companies would have you believe. The aftermarket wheel industry has been flooded with products promising light weight—however they are not always strong enough to survive in the real world. BBS forged wheels are not only light, they've been designed to handle all environments gracefully and safely.
Why is Flow Forming such a big deal? Because during Flow Forming, pressure applied to the cast rim actually changes its mechanical properties, so its strength and impact values become similar to those of a forged rim. That translates to up to 15% less weight when compared to a standard cast wheel.
BBS currently uses Flow Forming in the production of CH and RC one-piece wheels, and for the rim sections of the RXII, RKII, RSII, and RWII multi-piece wheels."
So that's it pretty much. I'm pretty stoked on those BBS wheels, I can't afford them, but I'm psyched that they made these for my car and I found out something new.