Well, in a previous post I alluded to the fact that I was moving. Since then, I have moved and along with me came everything that I have amassed over the years for Project Legend as well.
Along with all my current possessions that I have yet to install and wire up, there is also the never ending search for the parts or "pieces to the puzzle" that I don't have. A significant piece happened to pop up on eBay while I was in the final days of getting prepared to move. This same eBay auction also happened to end while I was going to be driving, therefore leaving me unable to bid on it. Well, the auction ended and I did not bid on it, nor would I have because it went well beyond my price range.
Call me crazy, but $270.00 for some OEM fog lights is just too much. Well, maybe not for some people but for me, during this time of economic instability, it sure was.
As much as I hated to see the fog lights slip through my fingers, there may be a silver lining in those clouds after all. I'll get to that (don't you worry) but before I do, I'd like to talk a little bit about the fog lights and why they probably went for as much as they did.
First off, some images of the fog lights that were posted: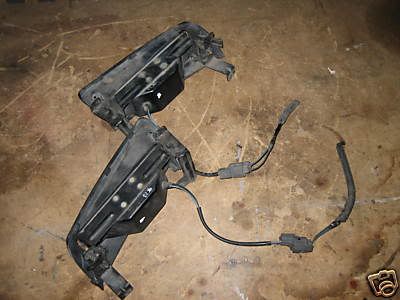 And now, some images of the two separate OEM bumpers and there respective fog lights:
As you can see, there are two types; the rectangular and the circular.
The rectangular fog lights and the bumper that allows for them is specific to the production years of 1991-1993, while the circular fog lights and there respective bumpers that allow for them are specific to the final two years of production; 1994 and 1995.
While both of these OEM fog lights, as well as there wiring (and even there switches!) are hard to come by, I believe the rectangular 91-93's to be even more so. In all of my searches, I've only come across a few. I should also state that the few that I did come across were in very poor condition. With that being said, it's not hard to understand why the fog lights that were being bid upon on eBay went for as much as they did.

Still, $270.00 is a bit much. In comparison I only paid $250.00 for my JDM one piece headlights from Japan, and that was WITH shipping.
Ok, now for the silver lining: two days ago as I was about to board the Bay Area Rapid Transit train to San Francisco, I noticed a parked Magenta painted Legend with those same 91-93 OEM rectangular headlights installed! Like a kid in a candy store, I ran up and got on my hands and knees while eyeing them up and down. To my delight they were in excellent condition. The Legend however, was not. First off, it was painted a rather hideous shade of pink and many of its parts were in various states of decay. So upon arrival back into my new home in Oakland, I proceeded to write the owner of this Legend a note which basically stated my intentions of buying his fog lights from him.
Hopefully he'll be into it. Hopefully he won't know that they are worth (apparently $270.00) and hopefully, by this time next week, I will have in my possession, a slightly used pair of OEM Stanley produced 91-93 fog lights for a fraction of what I would have gotten them for had I usually done what I do; sniping to win an auction on impulse when I really should have saved the money.
However, even if that doesn't pan out, I guess I'll just have to hold out for the Mugen bumper and its respective fog lights: