Project Legend continues with new additions to my/its arsenal. But before I mention them, let me first explain some differences and similarities between my (now two) project builds.
As mentioned before in my previous blog's beginning, my introduction to the KA7 Legend sedan began many years ago with my initial purchase of my 3rd owned car and first Legend; a 1993 Sherwood Green "Type L" 4dr sedan. As the months and years increased during my possession of the vehicle, so did my affinity towards it. Not only did I search for parts and other modifications for my sedan, but also longed to know more about in general.
In doing so, I learned that in the U.S., between the years of 1994 and 1995, Acura released in limited quantities complete with the updated "Type II" engine making 30 more horsepower than the original C32A1. This was, to say the least, the car for me. Smooth, powerful, luxurious, fun to drive, and most importantly; a Honda. Upon further research, I also found that this particular combination came in a Black on Black package. Black leather interior, with black plastic trim, black carpet, and Honda's very own "Grenada Black Pearl" paint for the exterior! Visions of my driving the car around, slamming it into gear, and revving the 230+ horsepower engine danced around in my head endlessly to say the least.
As my resolve grew for attaining my interpretation of the vehicular holy grail of my dreams, so did my fascination with my Sherwood Green Type L diminish. It had been in an accident before I bought it and whoever had fixed it, didn't do a good job of it. The left (driver's side) A frame was already rusting due to misuse of a caulk near and under the trim above the windshield. The left splash guard was torn in half, exposing to lower part of the engine via the wheel well. The driver side window regulator was broken, and the cars body itself was beginning to rust profusely on and around the rear wheel fenders.
All of that plus so much more….just didn't seem worth my time to fix. I mean after all, why sink so much money into a dilapidated type L, when the GS 6-speed was what I could be investing in? I could always just sell the type L or give it to one of my siblings. With that as my mindset, I began to accumulate my numerous JDM parts and additions to what would eventually be the culmination of my dream car. I operated under the assumption that once school was paid off; then I would buy the GS and implement my JDM component arsenal.
Then reality set in. Early this year at just under 200,000 miles on the odometer, my car fell victim to the infamous BHG (blown head gasket) that is the bane of the cars C32A engines' existence. Head work was more expensive than a new engine altogether, so I bought an imported low mileage Type I engine from Japan and had a trusted auto tech put it in for around $1,600.00 altogether. A significant chunk of change to say the least. As well as a monetary investment into the future of my daily driver.
Even before the head gasket went, the rust from the accumulated exposure to the body via the top of the A frame and towards the top of the windshield had allowed outside elements to begin to seep into the interior of the car itself. Basically, when it rained, I got the car washed, or it snowed; I got wet. A minor inconvenience, yes, but throughout the years, it had gotten progressively worse to the point that I would dread driving it in any poor weather condition. I had taken the car to body shops to have this problem remedied previously, and they had all quoted me astronomical prices to fix it because of the mere fact that they would have to take out the windshield to even get at the rust. Then, as luck would have it, during a talk with a close friend of mine who just happened to be in his second year of a two year collision repair/auto body program at the local tech school, we began to talk about him fixing it. He talked to his instructor and got the o.k. to fix the rust around the A-frame. Stoked as I was, I also wanted the rust fixed around the wheel wells. Well this friend of mine, being the great friend that he is, fang-dangled it somehow with his instructor and went ahead and did that too….along with even MORE body work! All in all, he and his team completed upward of three thousand dollars on my rusty dilapidated old 1993 Legend type L for cost (about $700).
During the body work, they noticed that the lower brackets of my USDM headlights were broken as a result of my ramming into a deer a couple of years back and told me that they needed replacement. I took this news as an opportunity to go ahead and order up a set of JDM one piece headlights as well as an OEM fog light switch so as to not have to wire up my fog lights to my headlights (more on that in another post) as well as have him install my JDM Alpha Touring "H" badged grill after painting the trim to match.
Well, I got the car back a couple weeks ago and there is no rust by the wheel wells…
….or by the A frame….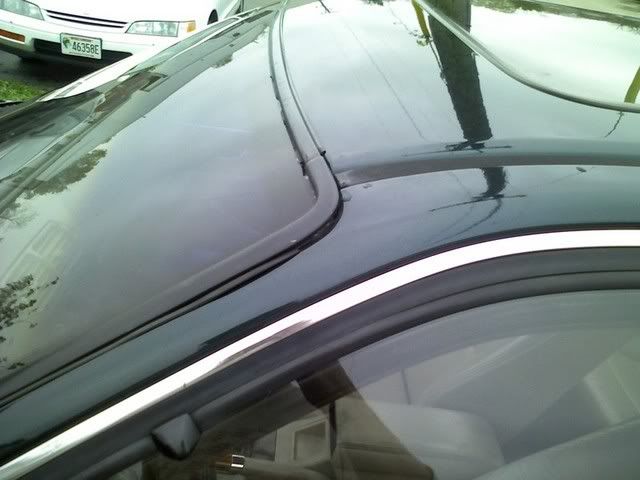 ….and my front end is now a Honda.
Great right? Well kind of. What about the rest of my JDM goodies? Should I install them on my daily driver? What about Project Legend? Has my Project Daily Driver become my Project Legend?
At this point…I don't really know. I'm still set on a 94-95 Blk on Blk 6-speed KA7. It is still what I imagine the end result of what Project Legend will be. For now though. I have to deal with what I have and go from there. Conscious of the present, looking towards the future, while having learned from the past.
Project Legend is a journey.