A short time ago I received in the mail my new "MOMO/HONDA" steering wheel horn button.
As you can probably see, it is going to replace my existing "MOMO" badged horn button that already exists within the center of my MOMO wheel.
What you may not see, is that this new button that I acquired; now says "HONDA" underneath the "MOMO" and is also in gold lettering.
.......so here is a better picture.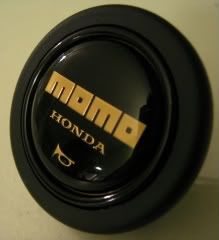 Fresh right? Right.
FYI, this horn button was made for by MOMO for Honda and its limited edition EG6 (92-95 for those of you not up on your chassis code knowledge) Civic steering wheel.
Also, because I'm strongly considering keeping everything on my builds "era-specific," this horn button works out quite nicely because of its original chassis' yearly denomination coincides with the Project Legends' (91-95).
Now that the steering wheel has a properly badged horn button, all I need to do now before installation/replacement of my existing OEM steering wheel, is to replace the center woodgrain trim/garnish. I need to do this because it currently looks like this...
....but I want it to look NEW, like this....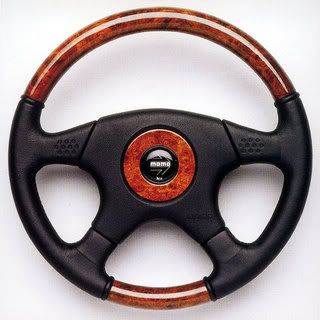 Awhile back, I researched some different places that customized steering wheel's, wood grain garnishes, etc and came across a this company:
www.craftcustoms.com
214-564-1170
892 Steger Towne Rd., #59
Rockwall, Texas 75032
I corresponded with a man named Carter via email and he quoted me $150 plus $15 shipping to do the work. While this price seemed a bit excessive, he assured me it was necessary because it is important that the work is performed correctly as well as it being about a three day process plus color matching the center garnish wood to match the outside wheel-wood.
This has been over a few months ago and I have not been able to go ahead further because of (as always) lack of money.
Thats all for this post. Just an update more or less about another lengthy process thats going to take awhile to reach fruition. When that glorious day DOES come however, I'm sure that I'm going to be pretty happy with the results.
It should be a one of a kind with the EG6 Limited Edition horn button.....
However, it won't be as cool as the official KA7 woodgrain Mugen steering wheel that I am ALWAYS looking for: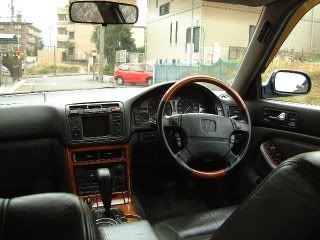 ......*sigh*........