Here's a pic of my new tire/wheel combo that I said I'd post awhile ago....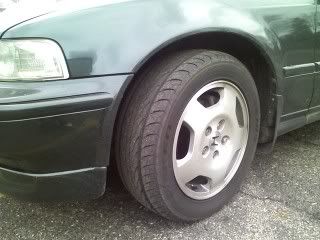 Yep. OEM GS 16's wrapped in some Falken Azenis. I'm pretty happy with them. Especially because of the Honda "H" center caps, although if you look closely; the plastic center cap's grey color does not fully match the aluminum wheels like the "Acura" caps that came on them originally. I guess I'm just anal like that, but they have to be perfect, so I'll probably replace them at some point when the money's right.
Actually, I plan on upgrading the whole combo altogether to something bigger/better.
Granted, bigger does not always equal better, but maybe some 17's of the Mugen NR variety would be nice…
That is, if I cannot find another set of these limited edition M7's…
(Photo courtesy of Matt at ICB Motorsports.)
Because of the size of the photo, you cannot really see the lettering on the face of the wheel but rest assured, it does say "VIA KA7" right next to the JWL and as such, is made specifically for the KA7 chassis, which would be an ideal choice for Project Legend.
These M7's however, are uber-rare (as is anything Mugen, much less Mugen/KA7 specific) and when I inquired about the cost of them when Matt posted them on his website, I believe the price was upward of two grand. That kind of money is just as out of my range now as it was then, but still, I'm optimistic as to what the future holds for my "shoe selection" in all its varieties as well as its application in regards to Project Legend.